SGH's Secondary School
The Warsaw School of Economics' (SGH) Secondary School was settled on the 1st September 2000. Since 1st September 2006, the School has been run by the Foundation for the Promotion and Accreditation of Economic Education.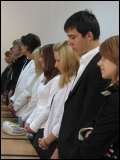 The School has majors in Mathematics, Geography, History, Entrepreneurship and foreign languages. English is continued and pupils can choose a second language among: German, French, Spanish.
The School aims at developing knowledge in economics and social science of young people. The curriculum is build on the basis of main SGH's values which are as follows: developing the ability to work reliably, promoting entrepreneurship and responsibility toward society.
More information at: http://www.liceumsgh.pl/